Jennifer Banks, WHNP-BC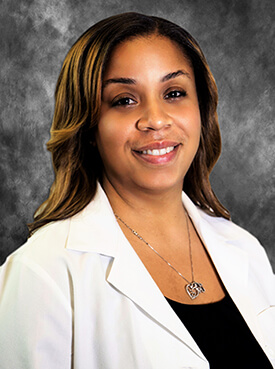 Jennifer Banks is a women's health nurse practitioner, board certified by the National Certification Corporation (WHNP-BC). Raised in both Cleveland, Ohio and New Orleans, Louisiana, Jennifer joined Greater Atlanta Women's Healthcare in 2016.
Ms. Banks began her education at Hampton University in Virginia where she obtained a bachelor of science in nursing. After practicing as a registered nurse, she decided to continue her education and earned a master of science in nursing in 2016 from women's health nurse practitioner program at Georgia State University.
Through nursing she developed a passion for women's health and practiced in this specialty as a registered nurse for 8 years, working in antepartum, mother-baby, and on a gynecology unit.
Ms. Banks has dedicated her career to caring for women during all phases of life and takes a special interest in disease prevention and education. She believes that education is an essential component in understanding health care and works hard to ensure that her patients understand the issues surrounding their care.
Ms. Banks is a member of the Association of Women's Health, Obstetric and Neonatal Nurses, Sigma Theta Tau Honor Society, and Delta Sigma Theta Sorority, Inc. She is married and has one son. In her spare time, she enjoys spending time with family and friends, traveling, reading, and volunteering with her church.
Patient Portal
Register or sign in to request appointments, complete forms, access your medical history, view test results, and more. From your portal account, you can communicate us with from wherever you are.
---
Patient Education
A great resource for gynecology patients and expectant moms, our online patient education library contains information on numerous women's health topics to help you understand your condition or upcoming treatment.